Klamath Falls, Oregon.
2023 Theme: The 60's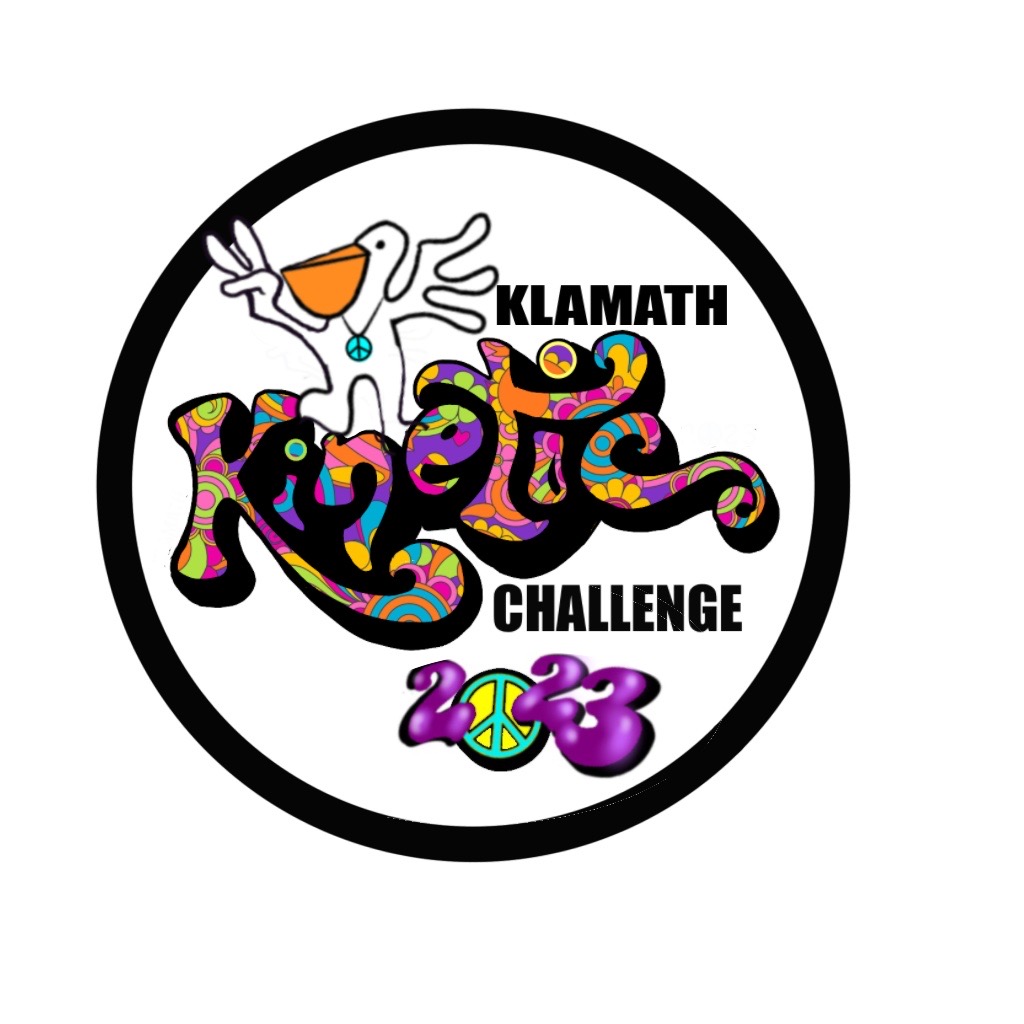 June 23-25 2023
Note: There are modifcations to the schedule and course
!
Please check out the important KOA info on the side bar.
!
OK, OK, but what is the Klamath Kinetic Challenge anyways?
If you've had your head in the sand the last 18 years (yes, I said 18 Years!) you may not know what a Kinetic Sculpture Race is. Well, Kinetic Sculptures are homemade, human powered vehicles able to travel (hopefully) over land, sand, muck, rocks and, oh yeah, water. They carry one, two, four or more people. The race is to see if these fantastic creations are able to negotiate the course. Awards are given for engineering/construction, art, speed and many other frivolous achievements. The Race is really a Festival put on FOR THE FUN of all involved, including spectators. (See links for information on other kinetic sculpture races.)
Cool, who builds these Sculptures?
Well, you can. Sculptures came from all over for previous events. Our biggest race was 2007 with 17 sculptures. We're hoping even more adventurous, ingenious people from Klamath Falls and surrounding areas will enter sculptures in the future. You can do this. Race festivities are best enjoyed by those directly involved.
Workshops are held every once in a while to assist you with the pesky details of building a Sculpture of your own. Check this web page for up coming Workshops and other helpful events, or if interested contact us. You could get us off our duffs to organize the next workshop.
Also Elliot Naess (pilot of Pear County Chopper in 2013) has wrote "How to Build a Kinetic Sculpture". It has a lot of good information in it
I'd like to build one but (insert excuse). How else can I be involved?
Volunteers are always needed. Planning is already underway for the next Annual KKC and you could have a positive impact. Volunteers are highly appreciated by the Racers and "bribes" are readily given. You really don't want to miss this event again. (See the contacts section and let us know you are interested.)
I really don't have much time but I'd like to watch.
You betcha. The Klamath Kinetic Challenge is much more fun for those intimately involved but spectators are an integral part. Come out race days for a spectacle seldom seen in Klamath Falls. See the 'Course' and 'Schedule' sections to the left. You'll be glad you came out.
Or if you want to help support the race with your $'s, see the "Donate / Pay Fees" link in the site bar.
---
A heart felt thank you for all who've made the KKC such a success. Sponsors, volunteers, racers and spectators. Thank You.